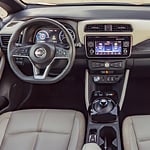 If you've reached a juncture at which you are interested in purchasing a new automobile, consider the Nissan LEAF. The Nissan LEAF is an industry-leading and popular electric vehicle. Buying and owning the Nissan LEAF can provide you with an array of important benefits.
One of the important benefits of owning and driving the Nissan LEAF that this electric vehicle is more environmentally friendly than is a traditional automobile. In addition, one benefit of the Nissan LEAF is potential tax incentives. Depending on where you reside, you may qualify for federal, state, or local tax incentives or tax credits. Another benefit of owning the Nissan LEAF is a potential rebate from the electric company in your area.
If you would like more information about the Nissan LEAF, visit us at Jenkins Nissan, located in Lakeland, FL. You can take this fantastic electric vehicle for a test drive.