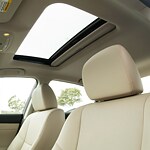 The new Nissan Altima is an exceptional vehicle, to say the least. This phenomenal automobile has it all from stunning good looks to superior comfort features. Consumers can opt from a range of trim levels. V6 and four-cylinder engines are also on the menu, so let's get started.
The new Nissan Altima comes in a mid-size, but it exhibits plenty of interior space. The vehicle's trunk will offer 15.4 cubic feet of space, and the rear seats are flexible. This includes 60/40 split-fold rear seats. Accommodating your personal needs shouldn't be a problem. The new Altima goes further by offering a number of advanced technologies that will enhance your drive. Android Auto support is available, and iPhone users can take full advantage of Apple CarPlay integration. There's also a heated steering wheel as well as heated front seats.
Come and get a free test drive of the new Nissan Altima by visiting our location.